·
All your search engine are belong to me
FocusFest proudly announces that FocalJet is now partnering with Focus Fanatics and Focusst.org to help bring you FocusFest 2015. This partnership puts behind years of friction between Focaljet and Focus Fanatics to help bring unity within the focus community. The goal is embrace diversity within the community and unite focus enthusiasts across the globe.

FocusFest '15: Community First.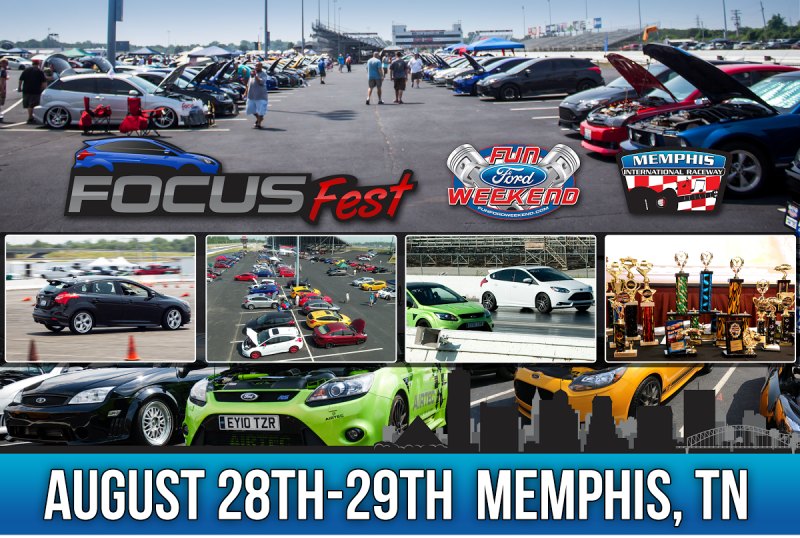 We are at it again! Come join us August 28-29th, 2015 in Memphis, TN for the most exciting Ford Focus event of the summer, featuring: Car Show, Drag Racing, Autocross, and more. Continuing on the success of FocusFest 2013 & 2014 in St Louis, we're continuing to grow by pairing with STFest to bring to the table more cars, more awards, more prizes, and overall more fun & excitement. We look forward to seeing everyone in Memphis this year!
DATE:
August 28th & 29th, 2015
Fun Ford Weekend Show Registration: $30
(Includes - entry to the FFW event at Memphis International Raceway and drag racing at TBA times during the event)
Registration for Fun Ford Weekend will be done at the gate, the day of the show. You can bring a passenger along for FREE! CASH or CHECK only!
Autocross will likely be an additional $5 fee (details will be finalized soon)
There will be a $5 off registration card available with the purchase of a FocusFest goodie bag.
FocusFest 2015 Goodie Bag: $25.00
Coming soon!
Bags will include T-shirt, raffle tickets, $5 off registration coupon & much more!
Events Schedule:
Friday
- August 28, 2015
Meet & Greet Party at Fairfield Inn & Suites Marriott. (5:00PM - 12:00AM)
Goodie bag hand out
Party games for raffle tickets
Saturday
- August 29, 2015
Schedule TBD
Location - Car Show & Racing:
Memphis International Raceway
5500 Victory Ln
Millington, TN 38053
http://www.racemir.com/
Autocross Event: Time TDB
This will be an additional $5 for paid car show entrants.
Drag Racing Event: Time TBD
Fun Run Racing will be free for paid car show entrants.
Requirements:
You must wear long pants, no shorts.
Helmets will be required for any car that runs 13.99 or faster in a quarter mile.
Awards Ceremony & Dinner:
TBD
Lodging Information:
Fairfield Inn & Suites Marriott
6010 Macon Cove
Memphis, TN 38134
Rate will be $89/night
We have 15 double rooms and 15 single rooms in our block. Please reserve your room early so we can add additional rooms if necessary. Room reservation ends for the group rate on 7-28-15.
To reserve call 901-384-0010 and mention FocusFest for the group rate
Official FF15 Websites:
http://www.focusfest.com/
http://www.facebook.com/focusfestcom